The History of A.D. Reffold
A.D. Reffold (Electrical) Limited was formed in 1976 by Mr. A.D. Reffold. Originally its main activities were focused around the Industrial and Marine Electrical Engineering sector, where Mr Reffold has over 58 years experience.
The experience gained in this specialist area has enabled the company to understand the requirements of other specialist areas such as the Marine Oil Rigs, Industrial, Chemical Pharmaceutical and Food Industry's, where the company has been providing a service to several of the local market leaders for some years. Increasingly our experience is called upon by a number of clients covering all manufacturing environments, whose requirements and specifications are no less stringent than the Marine Industries.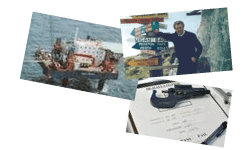 This experience, combined with the company's policy of continued and comprehensive training for all staff and a commitment to quality, gives the company its platform for trading on a worldwide basis. Each year our operatives cover the globe, servicing customers in the Middle East, Far East, Europe and America. These customers include major international shipping lines, national food companies and government departments both here in the U.K. and abroad as well as many smaller, but no less cherished customers.