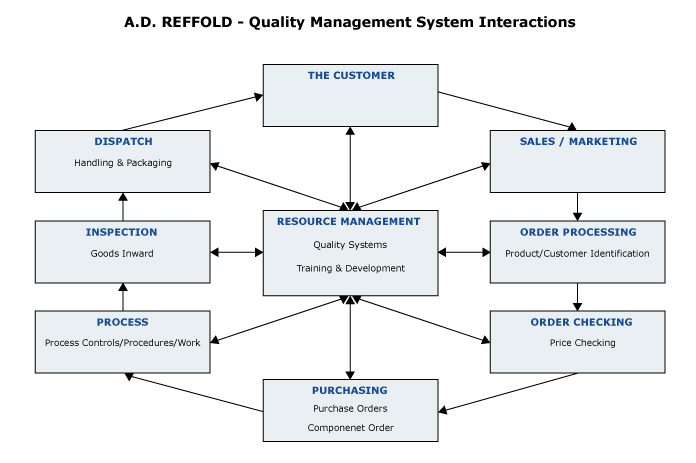 A.D. Reffold (Electrical) Ltds Quality Management System (QMS) is designed to meet and where possible exceed the requirements of BS EN 9001.
The QMS is made up of two sections as follows:
A Quality Manual & Quality Procedures & Work Instruction Manual.
These two manuals give detailed information on all operational activities within the company. All sections are cross referenced and all links between documents are detailed on the Quality Manual and Individual Procedure & Work Instructions. The company carries out Monthly Management Reviews to analyse quality improvements, to benefit the company and our customers.
A.D. Reffold (Electrical) Ltd Quality Management System is designed to meet its Company Manual objectives and provide our customers with the confidence that the company can meet their needs and expectations. The system is made up of a Quality Policy Manual, Quality Procedures that are consistent with its operations. These are supplemented with Technical Manuals, specific Work Instructions, files and forms.
It is the policy of A.D. Reffold (Electrical) Limited:
To ensure that all of its products and services have the appropriate level of specification and reliability to fully meet the customer requirements, giving the maximum value to the customer, at the lowest cost to the company.
The Company is a commercial business operating in a competitive environment. It is the comapny's intention to develop the business to improve the market position of the company, yet retain its unique and flexible service that customers have come to expect.
The Company believes that delivering the highest quality products and services to our customers is essential to its long-term growth. It is our belief that by working together with our customers, constantly striving for improvements in quality , service and efficiency we will deliver our aims.
To support these aims A.D. Reffold (Electrical) Ltd -
Has implemented a Quality Management System which complies with the requirementts of BS EN ISO 9001:2008
Will review quality objectives, should objectives or procedures need to change for the better of the Company
Is committed to the process of continual improvements in all parts of its operation.
Is committed to continually developing and training staff
In order to ensure that all products and services provided are of the highest quality for our customers. It is the Policy of the Company to involve the employee's, communicating the company's objectives effectively and fequently. It will provide them with practical assistance and training wherever necessary, to ensure that knowledge and experience is acquired for the successful implementation of this policy.